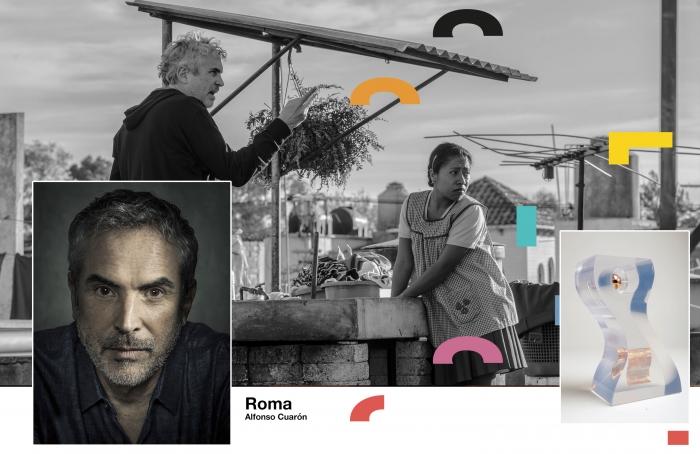 ROMA has been chosen as best film of 2019 by the members of the International Federation of Film Critics, FIPRESCI. The vote saw the participation of 618 critics worldwide, who chose this production from among all films released after 1 July 2018. The other finalists were Dolor y Gloria (Pain and Glory), by Pedro Almodóvar, for which Antonio Banderas won the best actor award at Cannes, Gisaenchung / Parasite, by Bong Joon-ho, Golden Palm at the Cannes Festival, which will participate in Perlak, and The Favourite, by Yorgos Lanthimos, winner of an award at Venice 2018 and for which Olivia Colman won the Academy Award for Best Actress.
This is the first time Alfonso Cuarón has received the accolade. The Fipresci Grand Prix is the latest recognition of ROMA, which premiered at the Venice Festival and participated in Perlak in 2018. Over the months, the film has harvested a never-ending list of awards: Golden Lion in Venice, Academy Award for best foreign language film, director, photography, BAFTA for best film, best film not in the English language and cinematography, ten Ariel Awards, Goya for best Iberoamerican film and seven Platino Awards, among others.  
Since its creation in 1999, the Fipresci Grand Prix has gone to prestigious filmmakers including Pedro Almodóvar, Michael Haneke, Cristian Mungiu, Jean-Luc Godard, Richard Linklater, Roman Polanski, George Miller, Maren Ade, Aki Kaurismäki and Paul Thomas Anderson, among others.
The FIPRESCI Grand Prix will be presented during the opening gala of the 67th San Sebastian Festival.
---
ROMA

Alfonso Cuarón (Mexico)

The most personal project to date from Academy Award®-winning director and writer Alfonso Cuarón (Gravity, Children of Men, Y Tu Mamá Tambien), ROMA follows Cleo, a young domestic worker for a family in the middle-class neighborhood of Roma in Mexico City. Delivering an artful love letter to the women who raised him, Cuarón draws on his own childhood to create a vivid and emotional portrait of domestic strife and social hierarchy amidst political turmoil of the 1970s.