THE FESTIVAL BEAT MAKER ! SHARING MOTION AND EMOTION SINCE 1995
Weekly newsletter N°1011 // 1010 Documenting the festivals experience since 1995, reaching over 166 000 subscribers:  
FOLLOW US :          
With other 11 000 festivals worldwide which we cover: no wonder we have reached the 1000 mark for our newsletters count. We proudly share our knowledge of the circuit with our community and really hope our audience ENJOYED THE EXPERIENCE.In case you missed any of these 1000 newsletters … you ll find them all here. 
FILMFESTIVALS.COM ANNUAL WINE TASTING RECEPTION HONORING CANNES AND AFM MARKET DIRECTORS: JEROME PAILLARD AND JONATHAN WOLF FOR THEIR CAREER AND CONTRIBUTION TO THE INDUSTRY     Fort Lauderdale International Film Festival Reception in Cannes     …
Take center stage in Cannes, blast your press releases and invites, let us shoot and promote for you…   We produce The Cannes Dailies delivering News, Glamour, Biz and Buzz. The Cannes Market Dailies and 8 Cannes Newsletters :     "I wish you the best of luck on the circuit. When I was a film distributor I have witnessed several times how true magic can happen in festivals for film and talent and I am proud to have personally contributed to some of these amazing s…
*FilmHedge* is a fin-tech lending platform for TV and Film producers. The company provides solutions for both film financiers and producers looking to borrow. The company was founded after the team lent more than $1 billion to Film/TV in previous roles and came together to improve the financing process for all.   Our platform brings efficiency and reliability to media lending, using technology to reduce fraud, automate financial reporting, and improve the disbursement of earned…
Sales launch in Cannes for Clémentine Célarié PIERRE & JEANNE     Sazia Films Presents PIERRE & JEANNE Market Premiere Screening Invite. Sibling Rivalry, and truth untold emerge after the unexpected inheritance of Jeanne France 2021 99 minutes  First feature film by Clémentine Célarié adapted from the novel Pierre & Jean by Guy de Maupassant Produced by Matthieu Rubin – Sazia Films. S…
  Explore the projects selected by our partner festivals Friday 20 – Monday 23 May | Palais K  The next generation of global talents will be on full display as the Marché du Film joins forces with five renowned international film festivals and markets to celebrate Goes to Cannes 10th edition! Discover a selection of feature films in various stages of post production seeking a sales agent, distributor or a fes…
Back on the Croisette to celebrate its 75th edition, the Festival de Cannes is happy to welcome new partner arrangements this year: exceptional media coverage, with the creation by France Télévisions and Brut. of a TV studio just a short walk from the Palais, artist interviews carried out by TikTokers, a Campari-coloured lounge at the heart of the Palais des Festivals, and a fleet of 100% electric BMWs to ferry festival-goers to the red carpet stairs.   Not only that: we wil…
Organise your visit  All the informations for the 54th Directors' Fortnight film selection is available on our website Download the screening schedule In 2022, entry is only possible upon presentation of a ticket for the specific screening.  Once the ticket booked/purchased, access to the screening is guaranteed. Reservations open four days before the day of the screening. Access to the theatre is possible up to 20 minutes before the screening. If you are unable to make it…
The seventh annual Global Short Film Awards Gala will be held at the JW Marriott in Cannes, France on 20 May 2022. Held concurrently with the Cannes Film Festival, the festive black-tie evening features awards presentations, fashion shows, films in 3-D, red carpet, champagne reception, dinner and entertainment. The event includes participation by beautiful fashion models from around the world as well as attendance by VIP guests, film industry professionals and international press. T…
Hooray for festivals! Cannes Docs welcomes a number of dear-to-our-hearts festivals as loyal and central partners. We strive to underline the extraordinary and very necessary role they all passionately play in bringing beautiful docs to their film-loving audiences in all parts of the world.  Meet them in person at Cannes Docs!  H4 | Riviera     CPH:DOX …
  In order to plan your stay in Cannes, please find below the link to download the screening schedule of the 61st Semaine de la Critique.   Access the screening programme   Accessing the Miramar Theater …
Take center stage in Cannes, blast your press releases and invites Take center stage in Cannes, blast your press releases and screening invites, let us shoot and promote for you…   We produce The Cannes Dailies delivering News, Glamour, Biz and Buzz. The Cannes Market Dailies and 8 Cannes Newsletters  Coverage from our team in Cannes May 17 – 28: Vanessa McMahon, Moira Sullivan, Quendrith Johnson, Nesta Morgan and the blog patrol led by Bruno Chatelin your e… 


Javier Bardem © Greg Williams – Agnès Jaoui © Thibault Grabherr – Mads Mikkeslsen © Kenneth Willardt – Alice Rohrwacher © Alberto Pizzoli / AFP « Rendez-vous with…» Javier Bardem, Agnès Jaoui, Mads Mikkelsen and Alice Rohrwacher at the 75th Festival de Cannes May 11, 2022 The « Rendez-vous with… » are meetings between the artists and the public of the Festival. They make it possible to savvy the vision and th…
WE ARE UK FILM AT CANNES: EVENTS SCHEDULE OVERVIEW You can also head over to weareukfilm.com/talks for the latest updates THURSDAY 19 May 14:00 – 15:00 Cannes Do's and Don'ts: How to navigate Cannes and live to tell the tale A panel of festival experts offer advice and experience on pacing yourself for 10 days on the Croisette! From hot tips on how to access tickets, to how best to maximise your (and respect other people's) time for networki…
The Better World Fund Presents "Food, Health & Sustainability"     During the Cannes Film Festival   Paris, France – The Better World Fund, the Paris-based non-profit organization raising awareness on critical global issues, presents Food, Health & Sustainability—a series of prestigious events. The event will be bestowed with the gracious participation of S.E Madame Dominique Ouattara, First Lady of Cote d'Ivoire, HRH Princess G…
THE SAUDI PRODUCER MOHAMMED AL TURKI APPOINTED AS CEO OF THE RED SEA FILM FESTIVAL FOUNDATION   The second edition will bring the best in Arab and World Cinema to Jeddah, nestled on the eastern shore of the Red Sea from 1 – 10 December   The Red Sea Film Foundation, an independent, non-profit organisation dedicated to promoting film culture in Saudi Arabia has today announced that Chairman of the Committee Mohammed Al Turki has been appointed as Chief Executive Officer of t…
Featured Conferences India | The Content Hub of the World . Thursday 19 May | 10:00 – 11:00 | Main Stage (& Online) India has an abundance of skilled & talented workforce, cultural and linguistic diversity, and an ever-growing consumption expenditure.  The country's ever-increasing digital demography, immense talent in technology, cultural diversity, discourses with a multitude of local stories, and stature as the worl…
Discover the selected composers! Spot the Composer connects music professionals (film composers, their agents, music supervisors) with feature film directors and producers. 10 international film music composers has been selected to meet directors and producers in Cannes.  Find out more about them and listen to their Disco playlist!  Find Out More About the Selected Composers  Spot the Composer is organized in partnership with: …
Photo by AB+DM   François-Henri Pinault, Chairman and Chief Executive Officer of Kering, Pierre Lescure, President of the Festival de Cannes and Thierry Frémaux, Executive Director of the Festival de Cannes, will present the award during the official Women In Motion dinner in Cannes on Sunday, May 22, 2022. Viola Davis, known throughout the world for her acting roles and her commitment to the rights of women and minorities, is one of the most influential American actr…
Spotlight on the most dynamic european producers at the cannes film festival   European Film Promotion (EFP) and its member organisations are delighted to announce the 2022 line-up for EFP PRODUCERS ON THE MOVE. Twenty of the most promising, up-and-coming European producers have been selected to take part in EFP's high-profile hybrid promotion and networking platform before and during the Cannes Film Festival (May 17 – 28, 2022). These are the 20 producers from 20 different …
Do not miss your opportunity to hear from these esteemed panelists – this is going to be a great event!       Please note: registration is for those who are tuning in online, want on-demand access for the event, or do not have an accreditation badge from the Marché du Film. All those with a Marché …
Bruno Chatelin filmfestivals.com co founder former head of SONY AND fox theatrical distribution shared his festival experience and advice for an hour to participants of BANGKOK INTERNATIONAL DOCUMENTARY AWARDS 2021 THE VIDEO WIL BE ACCESSIBLE FOR OUR AUDIENCE YOUTUBE CHANNEL OF BRUNO'S INTERVIEWS           …
Leading Los Angeles based production and sales company Capstone Global has partnered with Wayne Fitzjohn and Simone Swart's Nthibah Pictures, Alex Lebovici's Hammerstone Studios, Sam Raimi's Raimi Productions and Roy Lee's Vertigo Entertainment and is launching sales on Moritz Mohr's highly anticipated action-thriller Boy Kills World, starring Bill Skarsgård, Jessica Rothe (Happy Death Day), Michelle Dockery, Brett Gelman ("Stranger Things," "…

Discovering and Producing Talented Writers and Filmmakers left behind by the entertainment industry, worldwide!
The return of Entertainment's unparalleled event!
Season 3 SPECIAL EDITION: Accepting the following submissions: Features, Pilots, Shorts AND Documentaries!
THERE IS NO AGE LIMIT ON SUCCESS! WE ARE ACCEPTING SUBMISSIONS FROM ALL AGES, WORLDWIDE! Anyone under the age of 18 MUST submit a parental consent form.
ALL GENRES / SUB GENRES ACCEPTED!
Writers & Filmmakers of ALL ages can submit.
ACCEPTING:  FEATURES  /   PILOTS  /  SHORTS / DOCUMENTARIES!
OVER $500,000.00 IN PRODUCTION BUDGETS – CASH – AWARDS -PRIZES
Official website page, visit:
www.YourScriptProduced.com
Email I Website I Facebook I Twitter I Instagram I Profile on FILMFESTIVALS.COM  I SUBMIT
___________________
The 'Lost World' of Paleochora nestles between the Mountains and Sea in South West Crete and is the perfect location for Filmmakers to convene to show their work, network with colleagues and enjoy our fabulous Cretan hospitality. We may be at the most southern point of Europe, but there are BIG Film things happening here and on the entire Island of Crete. Our main aim will be to select films which focus on great storytelling, whether fiction, documentary or any other accepted genre.
Paleochora Lost World Short Film Festival launched its 1st edition in June 2019 to a spectacular success. The Festival enjoyed packed audiences at all screenings and played host to 22 visiting Filmmakers & Industry guests from as far afield as Brazil, USA, France, Ireland, UK, Germany, Greece & Iran. Check out our photos here as well as the Festival Vibe & interview videos on our YouTube Channel (Copy & Paste the link):
https://www.youtube.com/channel/UCfnk7RWWnYUTFmB2cpfxz6g
Screenings are held Under the Stars in the Town Hall Square with daytime programmes held at the fabulous Pearl Cavo oceanside venue.
SUBMIT I Website I Profile on filmfestivals.com I Facebook I Twitter I Email  contact
___________________
UNAFF
October 20 – 30, 2022

May 12 early bird deadline  
25th UNAFF (United Nations Association Film Festival), which was founded in 1998 by Stanford educator and film critic Jasmina Bojic in conjunction with the 50th anniversary of the signing of the Universal Declaration of Human Rights.
The 25th UNAFF will be held from October 20-30, 2022 in Palo Alto, Stanford University, East Palo Alto and San Francisco. This year's theme REFLECTIONS continues our enduring devotion to the principles of the Universal Declaration of Human Rights, emphasizing our 25th Anniversary milestone.
Website I  Facebook  I  Twitter I profile on filmfestivals.com I Submit I
___________________
May 31, 2022 Late Deadline
The Chelsea Film Festival (CFF) has been selected in the "TOP 10 BEST FILM FESTIVAL IN NORTH AMERICA" (#6) by USA Today in 2019 among 19 other film festivals in the USA.
CFF is an organization dedicated to supporting films and the artists who create them by providing a creative forum for exchange and discovery with the public.
The Festival attracts filmmakers, artists and audience members from across North America and around the globe. It premieres independent feature-length, documentaries and short films with a Global Focus.
Chelsea Film Festival aims to raise an awareness about foreign independent films and discover upcoming talents.
The Chelsea Film Festival is an international film platform for world lovers.
Email I NY United States I Website I Blog on Filmfestivals.com I Facebook I Twitter I Instagram I SUBMIT
Starring Gary Kohn, Jade Struck, Claude Duhamel, Jim Kinney…
Jeff Gross is a novelist and film maker. He has several writing collaborations with Roman Polanski to his name, including "Frantic" and "Bitter Moon"
Returning to the small town of Eden, Oregon after 30 years in France,  Josef, a writer, filmmaker, and self-described permanent exile, tries his best to fit in. Unable to write,  the world is so crazy that he can't keep up, he starts coaching the girls' tennis team at one of the local high schools. Lonely, adrift, he develops a friendship with Hope, a remarkable woman who dances in Puritan Eden's only strip club.  But as the dark clouds of fascism roll in, rumors run rampant, and soon enough, inevitably, the two worlds collide, with tragic consequences.
Profile on filmfestivals.com  I Website I Trailer I The team I IMDB I Stills I The Director I  
First Feature film 2022 99 minutes
France 2021 99 minutes  First feature film by Clémentine Célarié, produced by Matthieu Rubin – Sazia Films.
Starring Loris FREEMAN, Elodie GODART, Clémentine CÉLARIÉ, Philippe UCHAN, Mathieu AMALRIC, Sergi LOPEZ, Dominique PINON, Tom LEEB, Jacqueline CORADO, Marie DURET…
Sibling Rivalry and truth untold emerge after the unexpected inheritance of Jeanne
"Pierre et Jeanne" recounts the devastation caused by an inheritance intended for Jeanne, Pierre's younger sister. This poisoned gift from a friend of the parents will instill discord, jealousy, discord and sibling rivalry until an untold truth is revealed.
EPK on filmfestivals.com : Français I English I IMDB I  Cinando I Request a screener 
Cannes Market Premiere Screenings 
May 17:  7:00 pm Marché du Film Online #9
May 18:  4:30 pm Marché du Film@ Lérins#3 in person
May 19:  4:30 pm Marché du Film Lérins#3 online
May 20:  6:00 pm Marché du Film @ Lérins#2 in person
May 21 : 6:00 pm Marché du Film Lérins#2  online
———————————————————
Starring Aidan Browne and Sofia Masson

A young guitarist is about to play the biggest show of his life. Things don't quite go as expected…
———————————————————
Short Film Fantasy  USA  December 2021 – 14 Minutes 20 seconds  
A prestigious feminine writer examines in her most recent novel what it means to be a woman across history and conjures up Cleopatra, Queen of Egypt and fierce feminine writer/philosopher Mary Wollenstonecraft(mother of Mary Shelley, author of Frakenstein) who have crossed deserts of eternal time to meet.
The women materialize into her present time environment and recount their greatest victories, defeats, loves, regrets and dreams.
Profile on filmfestivals.com  I Trailer I The team I Berite Labelle I Stills I The Directors I  

Kevin Box has always known exactly what he intends to do with his life. In his words, "I want to have a conversation with people now and hundreds of years into the future."
As an artist, Kevin has been fascinated by the evolution of "lost wax casting" to create bronze sculptures and he spent many of his early years being mentored by other successful sculptors. Through his own R&D, he developed a unique signature by "unfolding" origami and casting these beautiful patterns into museum quality wall hangings.
"ORIGAMI IN THE GARDEN" traces the career arc of Kevin and his partner/wife Jennifer as they now continue to create multiple traveling exhibitions of their artwork. Over the past decade, their unique sculptures have been viewed all over the country by millions of people.
"ORIGAMI IN THE GARDEN" is an Artfilm, a Love Story, and an inspiration for all by showing what is possible…just starting with a simple piece of paper!
Profile on filmfestivals.com I Website I Trailer I The team I The artists I Facebook I  

Former NATO Supreme Allied Commander, General Wesley Clark and his son Wes Clark Jr. take us on a journey through the complicated realities of our financial system and its profound exposure to climate change. Hot Money outs the whole game, the whole charade, the whole crapshoot of the money system with all the humor and intelligence of a New Yorker cartoon. Combined with the wisdom of international business experts and academics, Hot Money is rich with historical context. It severs the knot of economic and political forces that may lead to societal collapse.
Profile on filmfestivals.com I Website I IMDB I Trailer I Cast & Crew I Facebook I Twitter I Instagram I Distribution

Documentary by Susan Kucera (director of Jeff Bridges Living in the future's past)
USA July 2021 51 minutes 48 seconds
Much of our population currently lives with hopeful delusions about climate change. These delusions, many of which are built in by evolution, hamper our ability to meaningfully address the problem.
Our brains evolved to solve short-term challenges for our survival. Climate change is a long-term challenge to our survival. Can we bridge the gap between these modes of thinking?
Emmy-nominated actor David Morse narrates the brutally honest 12th hour with insight from noted evolutionary biologists, climate scientists, cognitive researchers and psychologists.
Visionary thinkers like Peter Russell, Dr. Paul Piff, Dr. Kari Norgaard and dozens of the brightest minds in academia lay out an unflinching look at mankind: our past, our abilities, our shortcomings and what may be humankind's final destination.
If we have any hope to survive the changes we've locked in to our climate, we need to be honest with ourselves and our limitations. The 12th Hour lays out our biases so that we may overcome them.
Profile on filmfestivals.com I Website I IMDB I Trailer I Cast & Crew I Facebook I Twitter I Instagram I  distribution

Documentary by Daisy Gedeon second feature documentary
Australia  june 2021 90 minutes (in post)
 
ENOUGH! Lebanon's Darkest Hour follows Australian-Lebanese filmmaker Daizy Gedeon's personal and independent introspection into how her ancestral homeland, the place her family was forced to flee in the 1970s because of the Civil War, has ended up in a state of complete catastrophe. It is a story of awakening in which Daizy is forced to abandon her idealism about Lebanon and face the cold, harsh truth about the country's dark underbelly which is its most sinister enemy.
Daizy prosecutes the case against the corrupt political class which has reduced a proud people to beg for garbage collection instead of greatness and negotiate potholes rather than peace.
ENOUGH! is the plea and the prayer, the feeling and fierce determination of the 4.5 million Lebanese in Lebanon as well as the 16 million members of the Lebanese diaspora scattered around the world, whose hearts continue to bleed for a homeland they are desperate to return to and so deeply want to believe in…once again.
Profile on filmfestivals.com I Trailer

"The Sound of Us" illustrates that during this critical time in world and U.S. history, music gives sound to hope and courage, allows us to grieve and be honest, and is the great, universal language that unites us all.
As the world grapples with unrest the profound truth remains that, through music, we are not alone.
The Sound of Us weaves inspiring stories about the beauty and goodness of music with interviews and performances by artists such as Ben Folds, Sarah McLachlan, Avery*Sunshine, Eric Whitacre, Preservation Hall Jazz Band, Hiromi, Antonio Sanchez, Butch Walker, Will Wells, Patti Smith, and many more. Combined, these powerful vignettes illustrate how music heals us, gives us hope for the future through our children, keeps our heritage and history alive, allows us to have the most difficult of conversations, sheds light on current struggles, and continues to invite us back to the thing that unites us all – music.
The film is directed by Chris Gero, a Grammy nominated, American music industry executive, concert producer, record producer, songwriter, film director and composer, founder of Yamaha Entertainment Group of America and Chief Artist Relations Executive for Yamaha Artist Relations Group
Profile on filmfestivals.com I Ask for a screener I Trailer I  

USA  28 minutes August 2021
Invisible Hand is an exploration of memory. Our unnamed protagonist lives a life of repetition and insecurity. Every day is a blur of abstract actions until one night she meets a dark stranger who gives her a mysterious gift. Her life is turned upside down when she confronts a terrifying truth about her past. Deciding to take herself out of the abstract daily routine, she journeys into the crevices of her memory to untangle a dark secret that could ultimately destroy her.

In an attempt to snatch a sample of human DNA, two clueless aliens come down to Earth and crash a Halloween party in Hollywood.
Website I Twitter I Facebook I Instagram I Profile on filmfestivals.com I Stills I Trailer

74 minutes First feature documentary USA April 2021
A diverse group of middle-school students go on the journey of a lifetime when they compete in a nationwide competition sponsored by MIT to code satellites aboard the International Space Station.
Zero Gravity is a feature documentary that follows a diverse group of middle-school students from San Jose, CA, who compete in a nationwide tournament to code satellites aboard the International Space Station.
 
Seen through the wondrous eyes of three diverse young students and their first-time coach, they each take an intimate and personal journey to space as their team grows from amateur coders to representing California in the ISS Finals Tournament — the culmination of a summer-long adventure that sees their incredible accomplishment performed by astronauts in orbit.
Website I Twitter I Facebook I Instagram I Profile on filmfestivals.com I Stills I Trailer

Nous sommes très fiers des bonnes relations et des partenariats signé avec les plus grands festivals et marchés : Venice Production Bridge, FestForums Santa Barbara, AFM, Animaze, Tallinn Black Night International Film Festival, Houston WorldFest, Fantasporto, et Cannes Market bien entendu et beaucoup d'autres. Nous sommes heureux de pouvoir grace à ces parteneriats pouvoir apporter news et dailies à … 
PIERRE & JEANNE Premier long métrage de Clémentine Célarié, produit par Matthieu Rubin – Sazia Films. France 2021 99 minutes  Tous droits disponibles Clémentine Célarié sera à Cannes du 17 au 20, Matthieu Rubin son producteur jusqu'au 25 mai.   Casting  Loris FREEMAN, Elodie GODART, Clémentine CÉLARIÉ, Philippe UCHAN, Mathieu AMALRIC, Sergi LOPEZ, Dominique PINON, Tom LEEB, Jacqueli…
Le réalisateur lituanien Mantas Kvedaravičius, à qui l'on doit Barzakh (2011), Mariupolis (2016) et Parthenon (2019), a été capturé et assassiné par l'armée russe début avril à Marioupol. Sa fiancée, Hanna Bilobrova, qui l'accompagnait, a pu rapporter les images tournées là-bas et les assembler avec Dounia Sichov, la monteuse de Mantas. Le film s'appelle Mariupolis 2, il était impo…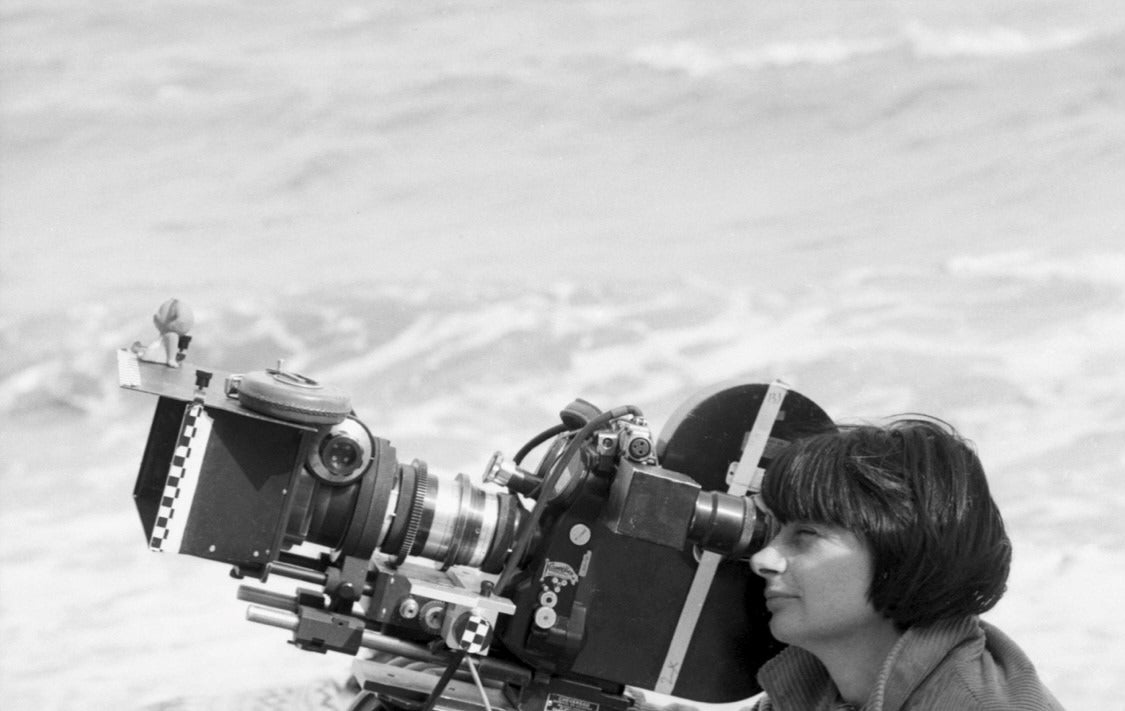 Depuis 2007, c'est sur le toit du Riviera qu'est installée la Salle du Soixantième, baptisée ainsi à l'occasion du 60e Festival de Cannes. Cette salle, devenue indispensable, s'appellera désormais  « Salle Agnès Varda ». « Je ne veux pas seulement montrer, mais donner envie de voir », disait-elle. Elle eut sa Palme d'or d'honneur, puis son affiche officielle : Agnès Varda, la pa…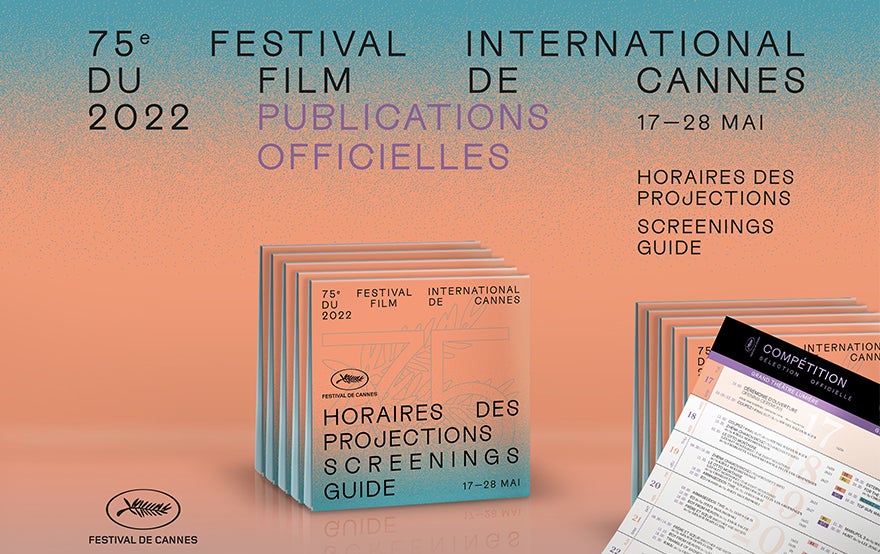 Horaires des projections © DR     Découvrez les horaires des séances des films en Sélection officielle pour la 75e édition du 17 au 28 mai et organisez votre séjour à Cannes ! Téléchargez les horaires des projections au format PDF Pour préparer votre séjour à Cannes : consultez le Guide pratique La billetterie sera accessible sur code accrédité depuis l'espace Mon Compte > Mo…

Javier Bardem © Greg Williams – Agnès Jaoui © Thibault Grabherr – Mads Mikkeslsen © Kenneth Willardt – Alice Rohrwacher © Alberto Pizzoli / AFP   Les « Rendez-vous avec… » sont des rencontres entre les artistes et le public du Festival. Ils permettent de recueillir la vision et la parole de grandes personnalités du cinéma venues du monde entier. Des moments rares de partage et de cinéphilie, de transmission et d&rsq…
Tapis rouge, strass et paillettes dans les Cinémas Pathé et Gaumont ! Pour la 9ème année, les films de Cannes s'invitent dans les cinémas Pathé et Gaumont pour un weekend riche en émotion placé sous le signe du 7ème art. Cette nouvelle édition, en partenariat avec Brut., sera proposée au Pathé Opéra Premier à Paris, au Gaumont Rennes, au Gaumont Nantes, au Pathé Be…
      Le Cinéma de la plage 2022 en accès libre, ouvert tous les soirs à tous les publics et aux festivaliers.   Photo © Joachim Tournebize / FDC  Tous les jours à 21h30, en plus des projections, rencontres et événements de la Sélection officielle qui se tiennent au Palais des festivals, le Festival de Cannes se réinvente à la nuit tombée et transforme la plage Macé de la Cro…
Ouverture de la Quinzaine en Actions avec le Fonds de dotation DAPAT | 17 mai | 14h | Théâtre de la Licorne à Cannes La Quinzaine en Actions est un dispositif d'éducation à l'image et d'accès à la culture initié par la Quinzaine des Réalisateurs.   Le dispositif s'adresse à tou·te·s celles et ceux qui, pour des raisons géographiques, financières ou sociales sont élo…
Depuis 2017, le Prix de la Meilleure Création Sonore récompense un réalisateur  de la sélection Un Certain Regard pour l'excellence sonore de son film. C'est le réalisateur Christophe BARRATIER qui présidera le jury de la 5ème édition du Prix de la Meilleure Création Sonore, entouré de l'actrice Anne PARILLAUD, du compositeur Greco CASADESUS,&n…
  Découvrez nos 3 prochains films au Festival de Cannes    …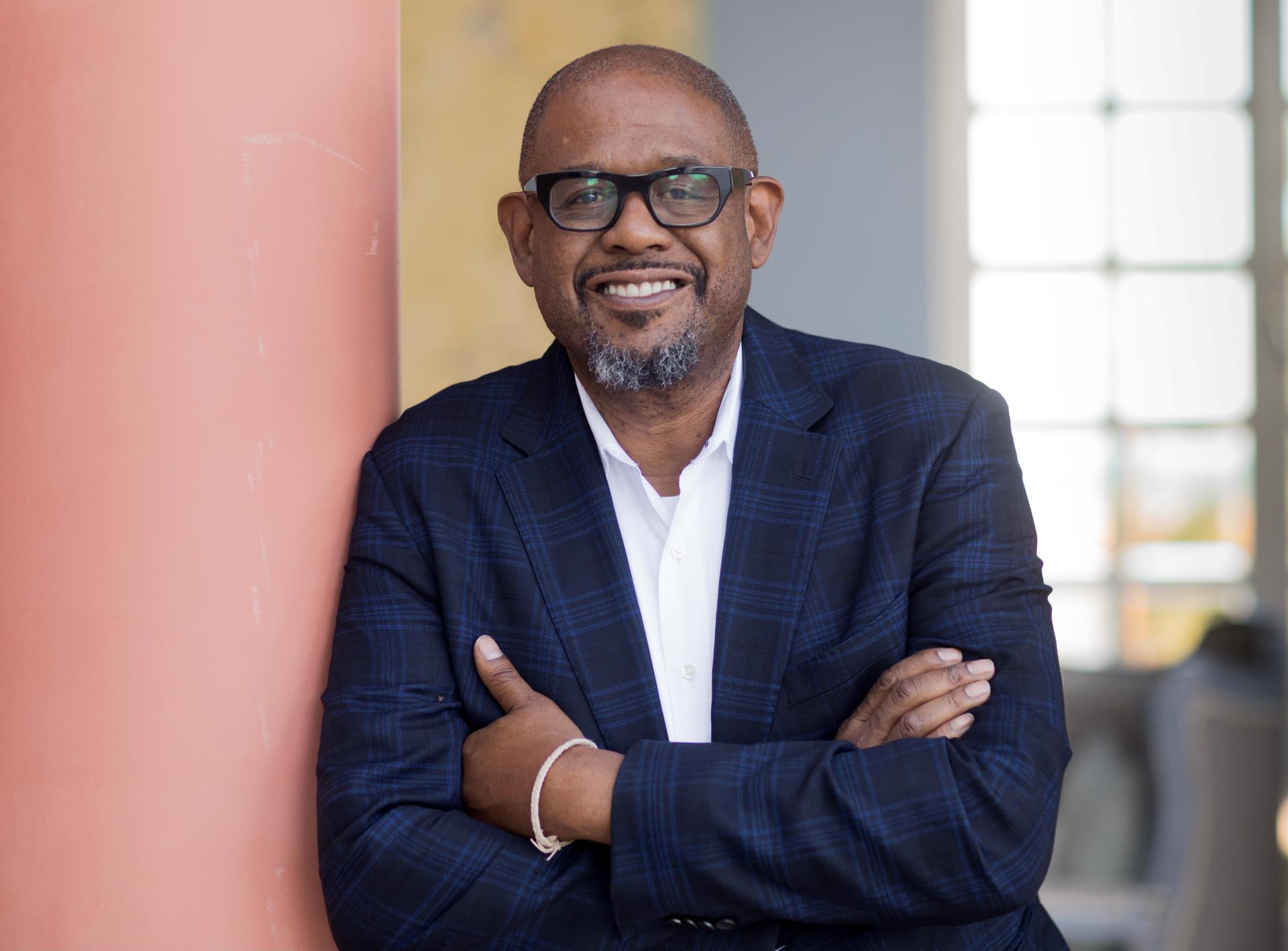 © WPDI   Après Jodie Foster en 2021, c'est l'acteur Forest Whitaker qui sera l'invité d'honneur de la cérémonie d'ouverture du 75e Festival de Cannes, retransmise en direct par France Télévisions et Brut. Tout comme Jeanne Moreau, Bernardo Bertolucci, Manoel de Oliveira, Jean-Pierre Léaud, Agnès Varda ou encore Alain Delon, il recevra une Palme d'or d'honneur, qui salue un parcours ar…